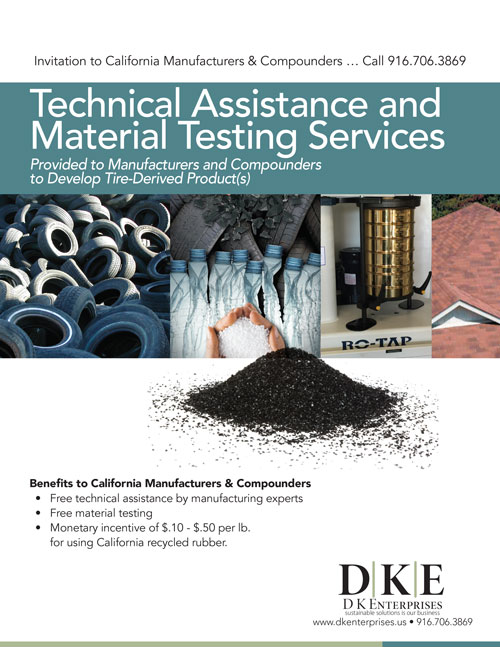 DKE Enterprises, Inc. (DBA DK Enterprises) was awarded its third California Department of Resources Recycling and Recovery (CalRecycle) Feedstock Conversion Technical Assistance and Material Testing Services (FCS) Contract DRR21047 (March 2, 2022-August 15, 2024). Funding is provided to the technical and testing service providers, in part or in full, that assist the qualified California manufacturers and compounders in the development of new or existing feedstock conversion products. The FCS Contract supports the CalRecycle Tire Incentive Program (TIP) which is designed to expand the demand for different and higher value-added tire-derived products (TDP) by providing an incentive to use, at least five percent, recycled tire rubber (crumb rubber) to partially replace virgin rubber, EPDM, plastic, or other raw material (also referred to as "feedstock conversion") and to increase sales of products that already contain crumb rubber. DK Enterprises has assisted its clients, including CalRecycle, in new product development and feedstock conversion product activity since 2007.
The FCS includes identifying and qualifying California rubber product manufacturers, rubber compounders, calendared rubber manufacturers, devulcanized crumb rubber manufacturers, and plastic product manufacturers (manufacturers) using TIP eligibility criteria and, if necessary, potential volume and value-added use of crumb rubber. DK Enterprises also coordinates the appropriate engineering, manufacturing, testing, and certification resources to formulate the optimum mix/size (mesh) of crumb rubber and provide the technical assistance to ensure the timely production and sale of the TDPs. DK Enterprises identifies and qualifies for FCS and TIP, the California tire-derived material (TDM) feedstock suppliers by performing on-site sampling (extraction and collection) and appropriate testing of crumb rubber including sieve analysis to determine the particle mesh distribution size consistent with ASTM International Standards D5644 (Test Method) and D5603 (Classification).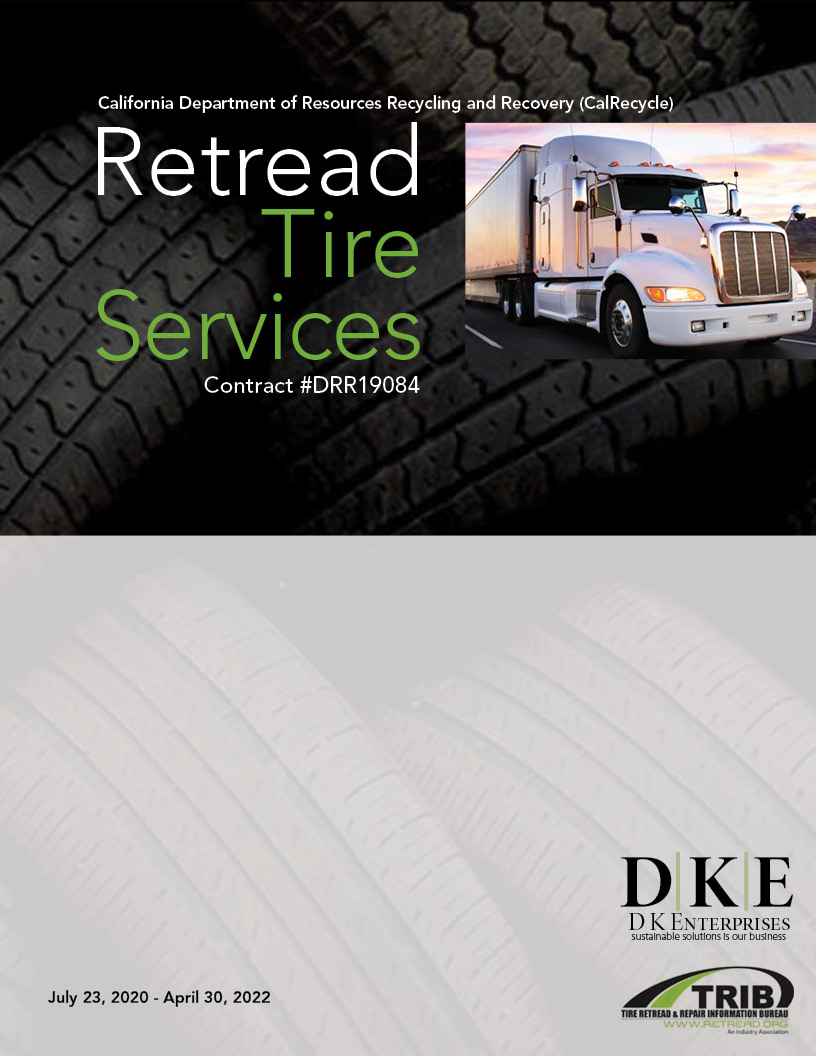 DKE Enterprises, Inc. (DBA DK Enterprises) was awarded the California Department of Resources Recycling and Recovery (CalRecycle) multi-year Retread Tire Services Contract #DDR19084 on July 23, 2020. DK Enterprises has partnered with the Tire Retread & Repair Information Bureau (TRIB) and an assembled team of industry professionals nationwide to provide the expertise to support CalRecycle's tire market development goals by increasing the use of retreaded tires through effective education and training for potential retread users as well as provide relevant research information to business and government policy decision makers. Our team's effort will be to help drive increased retread tire adoption in California and help the California retreaders to continue to grow and expand their businesses. The Contract is designed to: 1) effectively use end-of-life resources; 2) reduce greenhouse gas emissions; 3) reduce tire disposal and 4) pursue a demand-driven, sustainable, and diversified approach for retread tire market development in California. DK Enterprises has been working as a contractor and subcontractor to CalRecycle since 2007 in new and existing tire-derived product and market development. "A retread tire is the highest reuse of a tire in the hierarchy of tire recycling" said DK Enterprises President, Denise Kennedy. "This Contract includes evaluating the potential for certain market segments to use retread tires, developing an education and training video, producing digital market collateral, providing education and training webinars, and identification of what standardized testing is necessary to objectively evaluate the attributes of tire wear performance and rolling resistance of a retread tire."
"TRIB has been working with CalRecycle for a number of years to educate various state agencies about the environmental and economic benefits of retreading" said TRIB Managing Director, David Stevens. "Through this Contract and our partnership with DK Enterprises, we will now be able to expand our efforts to help drive increased retread tire adoption in California as well as helping California retreaders to continue to grow and expand their businesses." TRIB is a non-profit, tax exempt 501(c)(6) industry association founded in 1974 whose goal is to provide the motoring public (both in the private and public sectors) with the most up-to-date information about the economic and environmental benefits of tire retreading and tire repairing. Visit www.retread.org. Read more...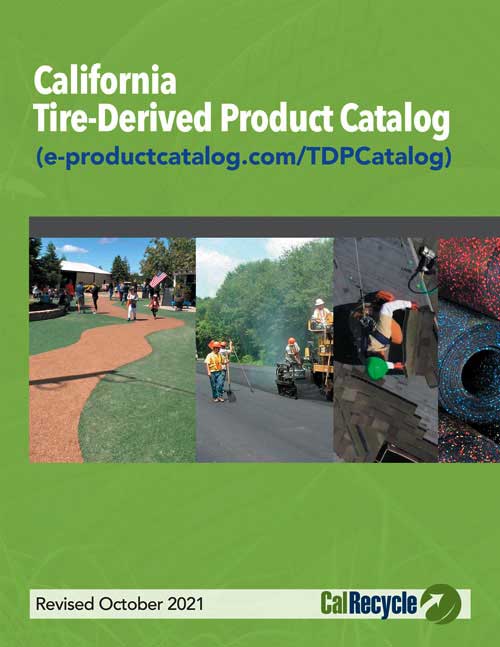 The California Tire-Derived Product (TDP) Catalog is designed to raise awareness about the broad range of products made from recycled tires; showcase videos representative of products, applications, standards and tire processing; identify company directories; and provide a variety of case studies, resources and the annual California Waste Tire Market Report. DK Enterprises, under subcontract to CalRecycle's Tire Outreach & Market Analysis (TOMA2) Boisson Consulting Contract, produced the California TDP Catalog. View the California Tire-Derived Product Catalog (revised October 2021) The Catalog includes several sections:
California Tire-Derived Product Catalog Sections
This section showcases California manuacturers and installers sell sheets for 16 product categories and tire-derived material (TDM) feedstock uses.
Videos
This report describes the 2021 California markets for scrap tires by market segment.
Important Note:
This catalog is intended to focus exclusively on products made in California from 100 percent California-generated tires. CalRecycle may revisit the criteria for inclusion in the catalog as well as how the catalog might be restructured to provide maximum value in raising the awareness of all tire-derived products. The TDP Catalog will be updated periodically.
Disclaimer: CalRecycle and DK Enterprises make no warranty, expressed or implied, and assumes no liability for the information provided in this California Tire-Derived Product Catalog. References to individual businesses and their commercial products do not constitute an endorsement by CalRecycle. The information contained in this website may not be complete and is provided as a convenience to our visitors and for informational purposes only.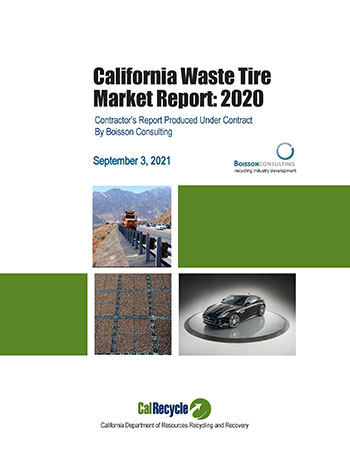 The 2021 California Waste Tire Market Report was produced under the CalRecycle Tire Outreach and Market Analysis (TMAS2) Contract by Boisson Consulting. This California Tire Market Report summarizes California waste tire flows in 2021 and current trends as of spring 2022. DK Enterprises has participated in interviewing industry stakeholders and providing research, analysis, and editorial support to the annual California Tire Market Reports since 2007.